NPM Construction completed a new, modern, two storey office building in Whangarei for Bowling Infrastructure group. From design coordination to help with buildability and cost savings, to carpentry and subcontractor management, NPM Construction managed the whole job effectively.
The high spec office building, which features an atrium over the reception area, took 6 months to complete. The steel-clad exterior has a high level of finishing throughout including blonded ply feature ceilings with black negative detailing.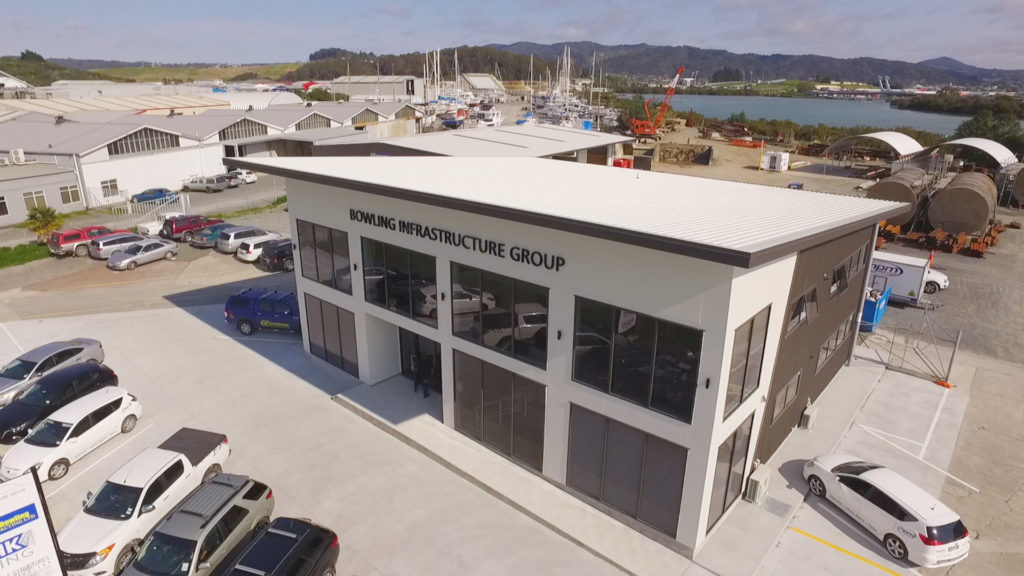 One of the main challenges with the construction was the access to the second story and the high ceilings. Both the interior and exterior of the building had to be fully scaffolded for the entire build.
Having companies within Bowling Infrastructure Group who can assist with the build, meant that there was a tight-knit and cohesive team of subcontractors to manage the major construction aspects. Steve Bowling Contracting (our sister company) carried out the concrete foundations which had specific finishing requirements to allow for the ground and polished concrete floors in the reception/landing. The structural steel and striking stainless-steel work throughout was completed by sister company – SSP Engineering.
NPM Construction liaised with the client on a daily basis to keep them up to date with the budget and programme. The building was constructed on an open book cost reimbursable contract which allowed the client to closely monitor the budget. All evidence of supplier and sub-contractor invoices along with labour hours were supplied allowing open book discussions to be had.