We have drill rigs to bore piles up to 36m long and 1800mm in diameter. We are experienced in the drilling, reinforcing and concreting of these bored piles to ensure the pile specification and tolerances are achieved without compromise. We have equipment and expertise which allows us to bore through ground conditions ranging from a fine marine silt to hard rock. Our GHK Piling team operates out of Whangarei, servicing Northland, while our Pole Structures team service Auckland.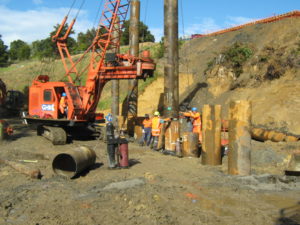 We are familiar with construction methodologies to overcome difficult ground conditions including using pile casings (temporary casings and permanent casings), use of bentonites and tremie pouring of concrete when ground water exists.
Our staff understand the importance of a quality job, first time. We pride ourselves on providing an efficient and quality job every time.
Get in touch with us to discuss your Bored Piles project.
Recent Projects:
Lynns Slip Repair